I love spring. I love the way the air smells like new grass and mud. I love watching flowers bloom and baby birds at the feeder. I love walking outside in warm sun with no jacket. I love that spring means summer is just around the corner. To celebrate this time of year, I decided to take a few pictures while my husband and I did some yard work last weekend. Correction:: My husband did all the work...I took pictures.
Brandon is growing
espaliered apple trees
in our backyard. I am a person who tends to make plants that people tell me are easy to grow die, so I am thoroughly impressed with this venture. Here's how it works:
You start with Dwarf Apple Trees:
The apple trees are planted amidst a fence of sorts. This involves a post hole digger, lots of cement, wire, and a supportive wife who is willing to document the hard work.
Here it is without the wire:
Here, it's almost done:
There's lots of dirt involved.
Once the trees start to grow, you train the branches to grow along the wires and after a few years you have a "living fence". Cool huh? We'll keep you posted on how it goes.
Besides taking pictures of my husband while he worked, I read a book in the sunshine. I have always loved Dorothea Lange. I did, after all, name my cat after her. She really had a knack for capturing raw emotion and telling a story through her photographs. I have been reading her biography,
Dorothea Lange: A Life Beyond Limits
. The book is about 4,237 pages long, weighs about 2 tons [[exaggeration]] and may take me a while to get through, but I'm thoroughly enjoying it.
A couple more shots:
We have a lovely purple maple tree in our back yard and when the sun hits it just right it almost sparkles. It looks much cooler in real life than this it does in this picture, but you get the idea.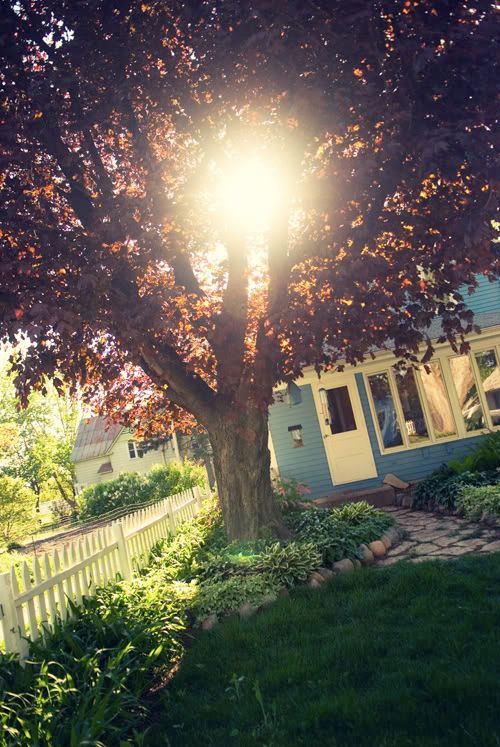 And finally, the cats. They love sitting in the window.