I am
finally
getting around to posting some pictures of our dear little Nora Margaret Otte. My goodness...it's amazing how much time a teeny tiny person takes up!
Nora was born on September 12th at 7:05pm. She weighed 9 lbs 3 oz and was 23 inches long. She is absolutely perfect.
Meeting my daughter for the first time was one of the most incredible moments of my life.
Before Nora's birth, I spent some time reading birth stories posted on blogs by other mom's and I think they are interesting, so in case you're curious, here is a little bit about Nora's birth and my somewhat bumpy road to recovery:
It all began when I went in for my 39 week check up on September 9th. My doctor found that my blood pressure was a tad bit on the high side, so he suggested Brandon and I head to the hospital to induce labor. In a frenzy, Brandon and I rushed home, threw a few more odds and ends into our hospital bag, and off we went. When I got to the hospital the doctors warned me that the induction process could go quickly, or could take a few days. As it turns out, they weren't kidding - it
really
can take a few days. They tried pretty much every trick in the induction handbook and nothing could make baby Otte get moving. Finally, once they broke my water at about 3:00 Monday afternoon labor started...in
full force
. Nora made her way into this world within 4 hours. We were thrilled to meet our beautiful baby girl and so happy that she arrived healthfully.
My recovery, however, was a bit more on the rocky side. The day after Nora's birth, I developed a severe headache from the epidural, a side affect that they warned me happens to a small percentage of people. Before leaving the hospital with Nora, they tried something called a blood patch which is typically a pretty effective fix for an epidural headache. After the procedure, my head felt a million times better and we headed home with baby. About 24 hours later, the headache returned. After calling the hospital, they suggested I come back for a second blood patch...typically if the first one doesn't work the second one does the trick without a problem. Again, the headache went away pretty instantly, but then returned the next day.
Knowing something wasn't quite right, I decided to head to the ER. After a CT scan of my head, the doctors found something called a subdural hematoma, or bleeding in my brain. They put me on some heavy duty pain medication and admitted me to the hospital overnight. As you can imagine, being back in the hospital was not where I pictured myself less than a week after baby arrived, but I knew between my parents, grandparents and a couple of uncles Nora was in good hands at home.
While I was in the hospital, the doctors did an MRI of my head to take a closer look at the brain bleed. They determined that the bleed came from the epidural and that the blood would most likely reabsorb on its own after some time. With that positive news, I was able to go home the next day.
Things were going well as I continued to get acquainted with sweet Nora. However, a few days later, the left side of my body went numb. I couldn't believe that something else was going wrong after all of the things we had already been through. We called an ambulance and returned to the ER once again. After some additional tests, they determined that I had experienced a small seizure as a result of the blood on my brain. I was so thankful that the news wasn't more serious and returned home once again with a few more meds to add to my collection.
I am happy to report that I am
finally
getting better with each passing week. Although this experience has been one of the scariest things I've been through it has shown me how very blessed I am to be surrounded by such supportive people. My husband is incredible - it brings tears to my eyes to think about how lucky I am to have him. Our family is nothing short of amazing...they took loads of time off to be here taking care of Nora and me for the first few weeks after her birth. Our friends and co-workers are wonderful - our refrigerator has been overflowing with meals that people have made for us and I know there has been a giant circle of people praying for us in the past month.
Above all else, beautiful Nora is healthy and happy. I am so thrilled to be her mom.
Whew - that turned into a little longer longer of story than I expected! (I can't believe Nora has been napping long enough for me to write all of that!) Thank you for sending your thoughts and prayers our way as I continue to head down the road of recovery. I have a couple of follow up appointments with doctors coming up in the next few weeks, and we are hopeful that the news will be good and that I'll be back to my old self again one of these days.
Enjoy
these pictures of our sweet baby girl. (Thanks, Grandpa Ken, for taking so many of these for us!)
Our first family picture!
1 day old:
Love.
Nora's teeny foot in her grandma's hand.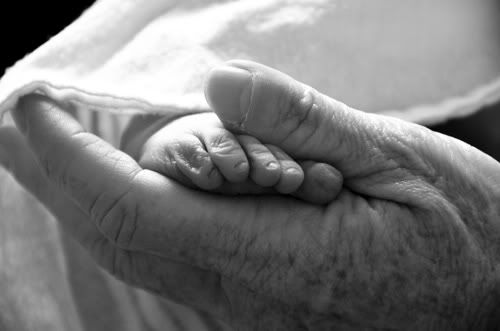 Our dining room table was converted to baby central for a short time. In this picture, Henry is wondering what has happened to his once spoiled life as a cat.
Nora's grandma Dana LOVES headbands. Nora may feel differently about them.
Nora's grandpa Ken has nicknamed her baby Snora. This picture may explain why:
My obsession with feet pictures continues: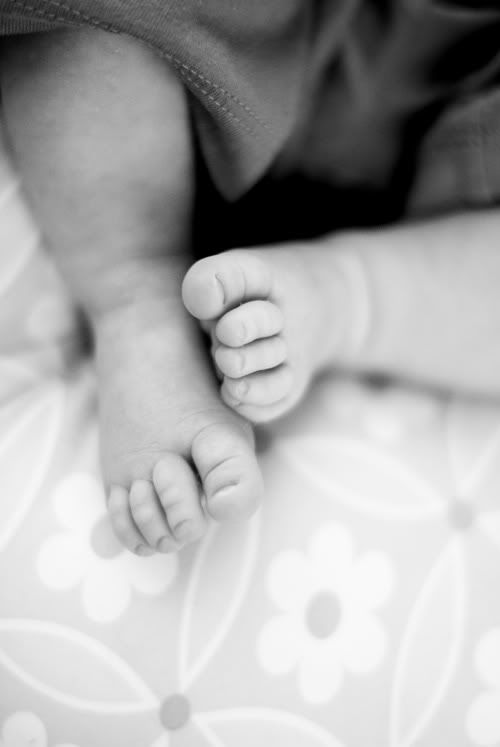 Stay tuned for pictures of Nora's nursery and a few pictures of her at 1 month old...